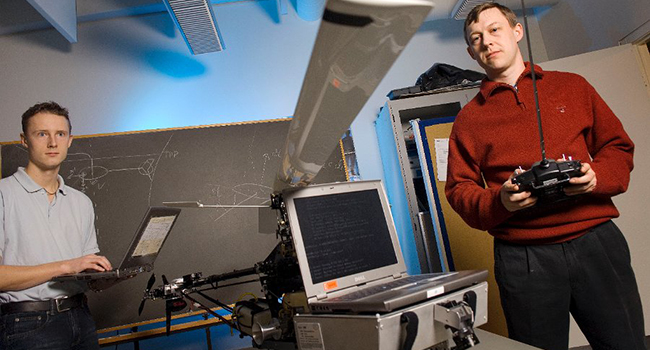 Drone Research Laboratory organizes drone activities at Aalborg University. AAU has been actively involved in teaching and research of drones since 2000, and today faculty staff, post docs, and PhD students from several departments are involved in drone activities.
AUTONOMOUS VEHICLES LAB
The section maintains a range of autonomous vehicles for indoor as well as outdoor use. The focus is on helicopters and wheeled robots, and this lab supports these by providing test and operation facilities such as base stations, sensor suits, and GPS and telemetry equipment.
MOTION TRACKING LAB
This lab has a motion tracking system from Vicon which is capable of tracking objects with very high accuracy. Located next to the Autonomous Vehicles Lab it is possible to do control and estimation experiments with a variety of autonomous vehicles without attaching anything but small reflective markers on them. This allows rapid prototyping for a range of projects and experiments.
AIRFIELD FOR TESTING
Most of the testing of drones takes place at the local airfield, which is home of the RC model club Aviators Modelflyvere. There is a large grass covered field next to the fjord, where there are virtually no activities during working hours.
MACHINE SHOP
The machine shop manufactures mechanical components for the drones whenever we need things customized. They have created many mounts, brackets, landing gears etc. in aluminum, carbon fiber and other materials.
ELECTRONIC WORKSHOP
To design, construct, and integrate a variety of electronic components the Electronic workshop is always available. They provide power supplies, servo controllers, processing boards, and many other gadgets for the drones.