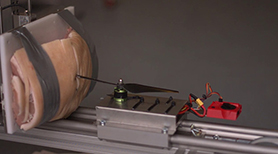 Researcher's catapult are testing the dangerness of drones
A new expermental setup including a motorized catapult and a high-speed camera i AAU's Drone Research Lab is documenting what is happening when one of the popular small hobby drones hits objects or persons.
AAU turns up the research in drones
Better technology to a smaller price makes drones the smartest option on several practical challenges in the industry. Therefore Aalborg University gathers a number of drone activities in the research based "Drone Research Lab" (DRL), and etablishes a new vocality network called "Drones @ AAU".
Drones moves indoor with danish technology
In a few years sorrounding drones become a regular indoor sight in factories and construction sites. That is the prediction from danish technology companies and researchers who following an investment for 11 mio. kr. from Innovationsfonden have to make the descent of drones secure and profitable.
Students develop drones who are able too locate high voltage cables
A collaboration between engineer students from Aalborg University and the drone manufacturer Sky-Watch in North Jutland have made the mini-helicopters operated by remote control able to evade high voltage cables and track persons.
They are researching in drones here
Anders La Cour-Harbo on duty. The project he is working on in the picture is named ASETA which is about utilising a drone and a unmanned field robot jointly to find and treat weedy areas in sugar beat fields.